This App will make you fall in love with drawing again! - Matt Busch
Innovative Approach
The right tools.
Three custom layers allow you to efficiently switch between the types of tools that are most useful. Draw loosely and plan your work in the "Sketch Layer". Enjoy precise control of line and value in the "Detail Layer" to make highlights and intricate details shine. Enjoy a unique "Tone Layer" that makes smooth shading easy and fun! Each layer's visibility can be toggled on and off.
Side by side.
Whether you are using your own photo or a tutorial, split-view allows you to use reference in a unique way, side by side. Pan and zoom to focus on detail and both the drawing and reference area stay perfectly in sync! This is perfect for artists who like to draw from reference without being forced to trace.
Intuitive full-screen mode.
But when you do want to trace... swipe the binder over to get a full page mode where you can trace over your reference to get proportions picture perfect. Or enjoy full-screen mode with the reference layer toggled off to focus on your detail while maximizing the iPad's work surface.
Endless real estate.
You'll never run out of pages. All your art can be backed up. And with an undo and redo function you can explore being more creative without ruining your drawing or wasting paper. Like a traditional sketchbook, the Interactive Sketchbook is portable and always ready when inspiration strikes.
Matt Busch Tutorials
Learn from a pro.
Get a professional illustrator as your personal tour guide! Matt Busch has been illustrating some of the hottest properties in movies, books, and comics for 15 years! And now he's your interactive instructor, sharing his secrets and teaching you the fundamentals of sketching portraits.
Lots of options.
Four different interactive tutorials guide you through the steps of creating awesome portraits. Follow along with Busch at your own pace across 11 visual steps and see every pencil stroke he makes. For more detailed guidance, touch any area within a step to reveal Busch's specific technique. (Over three dozen instruction points per tutorial!)
In previous how-to-draw books, I was always limited to showing how to draw in 3 easy steps. With Interactive Sketchbook, I'm as detailed as you want me to be. - Matt Busch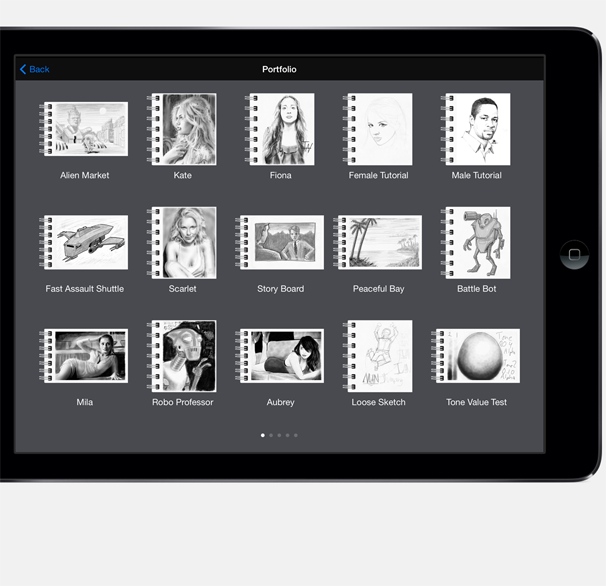 Portfolio and Beyond
The Portfolio is where you store, view, edit and resume your drawings. A clean layout and professional presentation allows you to view all your sketches at a glance. Tap a thumbnail to view your latest creations up close.
All your sketches are automatically saved and stored in the portfolio.
Continue any sketch from where you last left off.
Duplicate a sketch to make a new version where you can try something bold!
Export to your photo library where you can share with friends and family via email or uploading to Facebook.